POSTPONED – Richie Cole Memorial Concert
December 11, 2021 @ 7:00 pm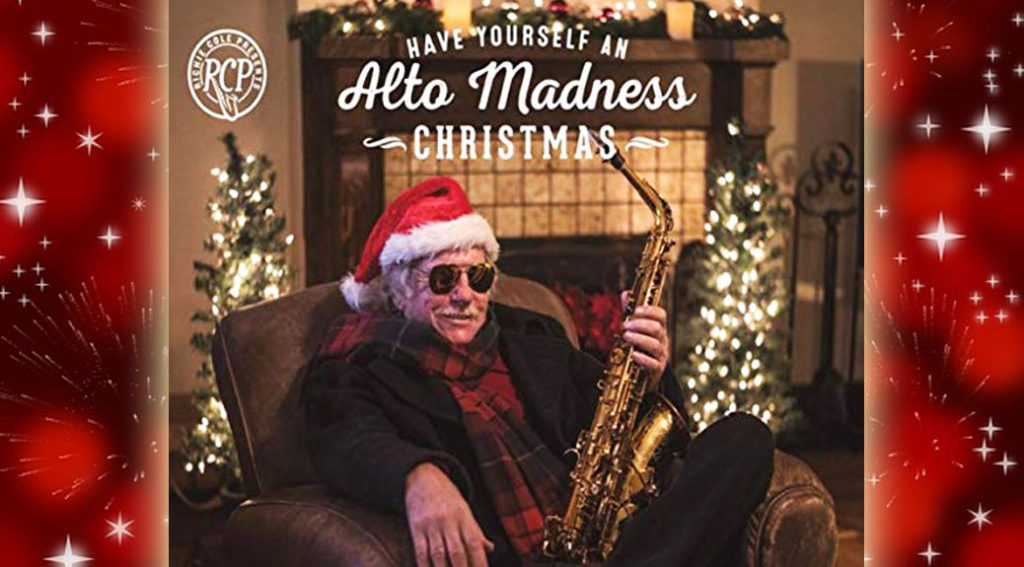 Postponed to Spring 2022!
Due to concerns with the ongoing pandemic, the Richie Cole Memorial Concert will be postponed until the Spring of 2022.
All ticket sales to-date will be honored for the rescheduled event.
Stay tuned for updated information regarding the specific date and time for the rescheduled concert.
---
A tribute to the legendary jazz saxophonist and Trenton native Richie Cole. Event presented by Richie Cole's family.
Please join us to celebrate Richie Cole's music, life and the holidays!
Members of Richie's jazz group will perform works composed by Richie, along with Christmas favorites that Richie would perform annually at the venue. Special farewell from Richie Cole, himself.
To purchase tickets, go to:
https://www.eventbrite.com/e/an-alto-madness-tribute-holiday-tribute-to-richie-cole-tickets-206902128837
Limited seats. Tickets must be purchased in advance. Looking forward to an amazing night – Alto Madness style!
Tribute hour starting at 7:00.  Show at 8:00.
Richie Cole (February 29, 1948 – May 2, 2020) was a jazz alto saxophonist born in Trenton, NJ and is a graduate of Ewing High School, Ewing New Jersey. He started on alto saxophone when he was ten, encouraged by his father who owned a jazz club in New Jersey. Winning a scholarship, he attended Berklee College of Music for two years before beginning his professional career. He is widely known for his creative jazz/bebop style of play. In 1969, he joined drummer Buddy Rich's Big Band. After working with Lionel Hampton's Big Band and Doc Severinsen's Big Band, he formed his own quintet and toured worldwide, developing his own "alto madness" bebop style in the 1970s and early 1980s. He formed the Alto Madness Orchestra in the 1990s Richie is survived by two daughters, Amanda and Annie, and four grandchildren.
Members of Richie's jazz group will perform works composed by Richie, along with Christmas favorites that Richie has performed annually at 1867 Sanctuary. The musicians include: Vince Lardear on Alto Sax, Pete Lauffer on Piano and Vocals, John Sheridan on Electric Guitar, Chris Clark on Bass and Joe Falcey on Drums. This group brings with them decades of jazz experience and performance time with Richie, to provide a festive tribute to 'The Man With The Horn' and prolific composer who has recorded over 50 albums, and brought so much joy to the world through his music.
Vince Lardear
Hailing from Wilmington, Delaware, Vince was selected to the McDonald's All-American Concert/Jazz Bands and the All-East Jazz Ensemble as a senior at Thomas McKean high school and holds degrees in music from Indiana University and Virginia Commonwealth University. He was Illinois Jacquet's lead alto player for six years until the jazz legend's death in 2004. An album featuring his compositions and recorded alongside of the late Grammy Award winning saxophonist Phil Woods was released in 2006. Currently working as a freelance musician as well as leading his own small groups, Vince is a talented presence on the jazz scene in the Tri-State area.
Pete Lauffer
Peter Lauffer began his piano studies at the age of four with his father, James, and continued with William and Louise Cheadle of Westminster Choir College. He was awarded the title of the Lawrence Township Scholar in 1969 and was granted a full scholarship to the Lawrenceville School where, upon graduation, he was given the class award for "consistent and significant contributions to the music program". During this time he was a regular finalist in the Anna B. Stokes and Mary Simon Gindhart Competitions. He received the Stokes first prize in both the piano and voice categories, and was granted an appearance with the Trenton Symphony for winning the Gindhart Competition. He continued his studies at Indiana University with Doctor Karen Shaw where he earned the Bachelor of Music Degree in Piano Performance. He migrated to New York City where he studied with German Diez for eight years. Later studies were in choral conducting with Doctor Michael Mendoza at The College of New Jersey where he received the Master of Arts Degree focused on vocal music.
John Sheridan
John Sheridan is a multi-discipline educator who over the past thirty years has been teaching courses in Music, Multimedia, Web Design and Computer Science. He holds a Master of Arts degree from New York University in Composition and Theory, a Bachelor of Music degree from Temple University in Jazz and Commercial Composition and Arranging and an Associate of Arts degree from Bucks County Community College in Jazz and Classical Guitar Performance. In addition, Professor Sheridan has studied guitar with Joe Federico, Tom Giacabetti, Pat Martino and John Abercrombie. For the past forty years, he has been performing in the genres of Jazz, Funk, Fusion, and Blues in venues ranging from clubs to festivals. He has performed with Jazz Luminaries Richie Cole, Larry McKenna, Jim Ridl and Marko Marcinko to name a few. Professor Sheridan has done session work for Nile Blue Records, eMCee Records and GMG studios and performs in numerous pit orchestras. He currently performs in the Jazz Celebration Big Band and the Monday Blues Jazz Orchestra. In 2000 he was included in Who's Who Among America's Teachers; in 2002 Who's Who in America; and, in 2004 Who's Who in the World . In 2013, Professor Sheridan received the prestigious Lindback Award for Teaching Excellence.
Chris Clark
Chris Clark currently teaches double bass at The College of New Jersey, the Lawrenceville School, and Arcadia University. He has previously taught at Rider University and the University of North Texas. He holds degrees in double bass performance from the University of North Texas and the University of North Carolina-Greensboro. Settling to raise a family in New Jersey between the Philadelphia and New York City music scenes, his portfolio has included many orchestral bass tutti performances, including a concerto performance of the Koussevitsky Double Bass Concerto as soloist, local jazz artisan engagements, musical theater productions, cabaret engagements in New York, and solo and chamber music recitals. His bass work helped garner a GRAMMY® nomination in 2012 for the family music release Fitness Rock & Roll by Miss Amy and her Big Kids Band. In 2016, he contributed to the short film "Home," starring New York cabaret artist Charles Baran, a film which has been selected for the Winter Film Awards #WFA2017 in New York City. www.ChrisClarkBass.com
Joe Falcey
Joe Falcey has performed music in the U.S. and internationally for the last 20 years. He holds a degree in Music from Kean University where he studied performance, composition, and music education. He also studied privately under master drummers: Dave McGraw, Tony DeNicola (drummer for Harry James), Joe Morello (drummer for Dave Brubeck) and Ari Hoenig (drummer for Kenny Werner, Joe Lovano & Mike Stern). Joe toured the east coast extensively from 2000-2004 with the Ocean Exposition project, and has been performing and recording with a number of bands including: The Puzzlebox Experiment led by bassist Keith DeStefano, The Happy Dog which features Jesse Wagner on vocals & guitar and Keith Snyder on bass, and Truth & Consequence, saxophonist Dan Peterson's group. Joe has also performed with many notable jazz & rock artists, such as: Glenn McClelland, Richie Cole, Eric Mintel, Bootsie Barnes and Bernie Worrell.