Clipper Erickson and Dominika Zamara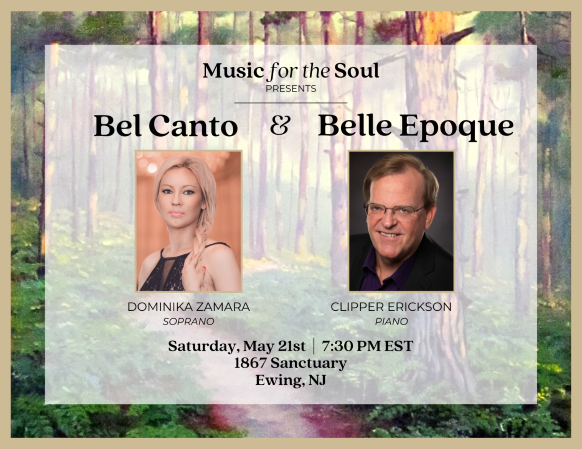 BEL CANTO & BELLE EPOQUE
Clipper Erickson, piano | Dominika Zamara, soprano
With works by Chopin, Bellini, Paderewski, and Chaminade
World renowned soprano Dominika Zamara is Music for the Soul's spectacular guest in a program of Bel Canto arias by Chopin, Bellini, and Paderewski. A cultural ambassador of her native Poland and now based in Milan, we are thrilled to welcome her to the beautiful 1867 Sanctuary in Ewing, NJ during her May US tour.
Enjoy a taste of the Belle Epoque with the elegant and brilliant piano sonata by French composer, Cécile Chaminade.
Come and enjoy a wonderful May night of Romantic music!
Tickets online or at the door – $25
https://www.eventbrite.com/e/bel-canto-belle-epoque-in-person-presentation-tickets-329955274107
Enjoy a taste of Dominika's gorgeous voice!
https://www.youtube.com/watch?v=AYKfVRylcAw&t=8s