The Whispering Tree
August 18, 2017 @ 8:00 pm
Event Navigation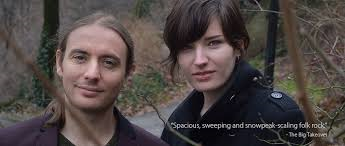 Preservation New Jersey is pleased to present The Whispering Tree in the beautiful setting and acoustics of the historic landmark 1867 Sanctuary at Ewing!
At the heart of The Whispering Tree (www.thewhisperingtree.com) are singer/songwriter Eleanor Kleiner and multi-instrumentalist Elie Brangbour. With their deep-reaching sound, haunting vocals and vivid lyrics, this Franco/American duo have been captivating audiences around the world since meeting at music school in London.
Their eponymous debut EP and subsequent full-length album, Go Call The Captain were heavily influenced by their travels abroad, which have taken them from their home base in New York to South America to a seven-month gig in Macau (China). Go Call The Captain was named one of the year's most luminous albums by The Big Takeover Magazine, and NYC's The Deli magazine called The Whispering Tree one of the most talented duos to take stage in NYC.
After relocating to the Hudson River Valley, The Whispering Tree released their follow-up EP, The Escape and were honored to lend their voices to Pete Seeger and Lorre Wyatt's, A More Perfect Union. While working on new material for their fourth release (due early 2018) The Whispering Tree have released several singles re-imagining classic rock tunes as plaintive, harmony driven folk songs and have returned to Europe for tours in The Netherlands, Belgium, Germany and France.The Whispering Tree tastily combine wistful folk, mellow rock and pinches of gypsy jazz and bluegrass into a compelling compilation of tightly written tunes. – Keyboard Magazine
Easily one of the strongest bands to emerge from the New York indie music scene…The Whispering Tree has burst through the glass ceiling, demanding the respect they deserve as one of the most talented duos to take stage in NYC. – Deli Magazine
The Whispering Tree manage to be extremely accessible without compromising the intelligence of their music. To say that Kleiner sounds like an edgier version of Tift Merritt, or Shelby Lynne in a pensive, cosmopolitan moment, doesn't do justice to the originality of her songwriting or her unaffected, disarmingly direct vocals. The band were amazing.– Lucid Culture
2017 New Folk Finalist
2017 Philadelphia Songwriter's Project Finalist
Two time North East Regional Folk Alliance showcase artist
North East Regional Folk Alliance Suzi Wollenberg Folk DJ Showcase
Two time Falcon Ridge Folk Festival Emerging Artist
Performed on Pete Seeger and Lorre Wyatt's "A More Perfect Union"
Featured on "One Tree Hill" and "The Client List"
First place Songdoor International Songwriting Competition